Moderator: Forum Moderators
Senior User

Posts: 1409
Joined: 17 Apr 2008, 10:46
Best wishes for a speedy recovery Marie x
Emma
---
Senior User

Posts: 1914
Joined: 05 Jan 2007, 13:24
Location: Sheffield, South Yorkshire
Best wishes Marie for a speedy recovery.

Love Michelle X
Labradors laugh with their tails
A Labradors face feels like home
---
Senior User

Posts: 842
Joined: 26 Feb 2007, 23:41
Location: Ribble Valley
Thanks everyone for your good wishes. I had my hip replacement op last Friday afternoon and came home on crutches on Monday. I feel like I had a weekend away!
I am on the enhanced recovery programme so excellent pain management so that I keep mobile.
Outstanding care and compassion at Burnley General hospital
Billy has been staying with Chris and Karen at Dogslife till I get used to moving around. He is coming home tomorrow.
Thanks again
Marie
---
Senior User

Posts: 4965
Joined: 01 Nov 2008, 19:38
Welcome home Marie, I'm glad everything went well. Hope you make a full and speedy recovery. Your boys need you by their side, especially Billy but, no doubt he has been spoilt rotten by Chris and Karen. Poor Roger has probably had to fend for himself.
Lins, Molly and Scooby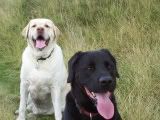 A house isn't a home without at least one Labrador
---
Senior User

Posts: 2090
Joined: 22 Nov 2011, 14:21
Location: Limousin, France
Pleased you are home and on the road to recovery, also that the hospital was good with you. You must be so looking forward to seeing Billy.

Hilary, Rowley & Douma
---
Moderator

Posts: 771
Joined: 04 Jan 2007, 00:11
Location: Larkhall, Scotland
Glad to hear you're on the mend, Marie.
Love,
Aileen xx

"You think dogs will not be in heaven? I tell you, they will be there long before any of us."
---