Moderator: Forum Moderators
Intermediate User

Posts: 61
Joined: 12 Mar 2013, 20:54
Location: Scotland
Advanced User

Posts: 165
Joined: 16 Feb 2012, 17:18
Location: Macclesfield, Cheshire
What a sweetie, looks a lot like my Jenny.
KarenL
Xx.
Senior User

Posts: 4498
Joined: 08 Nov 2008, 13:30
Aw
I could look at photos of Maddy all day long!
Senior User

Posts: 2609
Joined: 06 Jun 2008, 14:25
great photos of Madison
looks like she enjoys having her photo taken
Joan x
Joan and George x
Senior User

Posts: 4996
Joined: 01 Nov 2008, 19:38
Fabulous piccys. Brought a smile to my face. Madison is lovely.
Lins, Molly and Scooby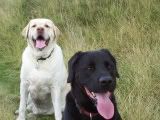 A house isn't a home without at least one Labrador
Senior User

Posts: 3025
Joined: 07 Aug 2011, 21:32
Location: Summerseat, Lancs
Fabulous Madison - although far too beautiful to be remotely scary
Joanna & Toby xx
Willow, my labrador soulmate, my one in a million..
Jan 2003 - May 2011

Senior User

Posts: 2655
Joined: 05 Jan 2012, 23:18
Location: Leicestershire
Well, what an amazing array of headgear the lovely Miss Maddie models so well! Carmen Miranda move over!
Des x