Hello everyone!!
It's been a while since I've popped a few photos of Madison onto the site here. I just wanted to let you all know that she is doing great and celebrated her 10th birthday yesterday!!!
We have no recent holiday photos because due to my health we haven't been anywhere this past couple of years. Also this time last year Madison had developed Mammary cancer and had to have surgery to have that removed. A very difficult choice being her age (9 years old), but we believed she deserved a chance and we are so glad that what seemed like a gruelling time for her for a few weeks actually turned out for the best and it saved her life. She had all the love in the world to aid her recovery. She is still keeping her weight off and she is still a very happy girl with a very gentle mannerism. I can't believe she's 10!!!
As you can see she enjoys life's comforts with her huge memory foam bed. Here she's having an afternoon snooze with her daddy after a walk.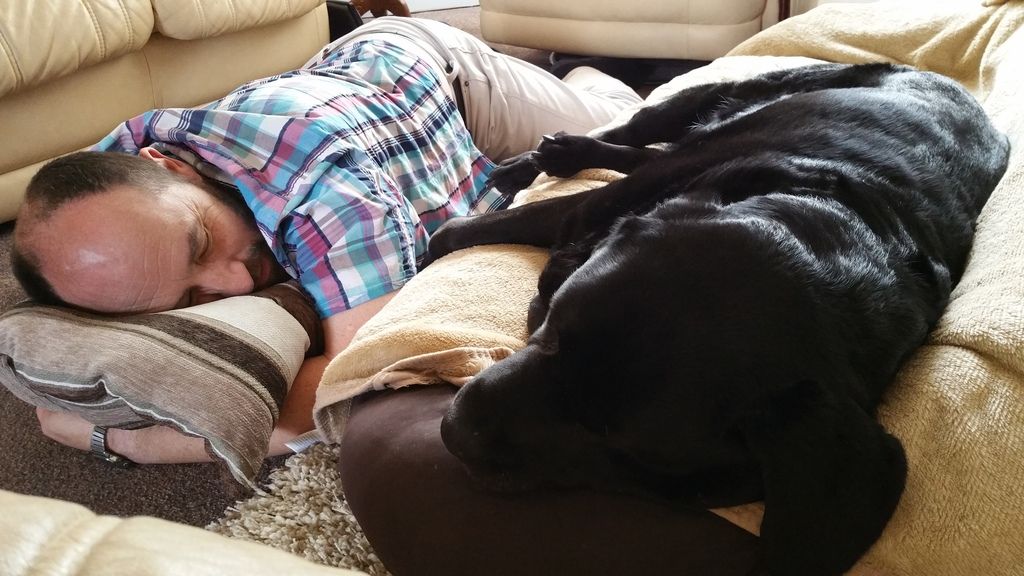 It is now just over 4 years since we rescued Madison and I can not thank Lab rescue enough for giving us the opportunity to have this beautiful girl be part of our family. Every day is a joy with her.
She has lots to look forward to in her senior years because we are currently in the process of moving up to the Highlands of Scotland. A home near the beach will be wonderful for her!!!
I'll put together some more photos. I seem to be having problems with photobucket today and I've only managed to get this one on here!!
Hope everyone is doing ok and your beautiful dogs are happy and healthy.
Lots of love from Angela and Madison xxxxx