Moderator: Forum Moderators
New User

Posts: 7
Joined: 12 Mar 2018, 16:32
Senior User

Posts: 2609
Joined: 06 Jun 2008, 14:25
Hi Matt your photos of your gorgeous big boy are stunning. He looks a huge character so I can totally understand how devastated you are and how empty your home feels.

Run free big boy x
Joan and George x
Senior User

Posts: 2266
Joined: 17 Jan 2014, 21:09
Location: Cheshire
Beautiful
Debbie, Coco, Kinder & Buttons XXX
Who ever said diamonds are a girls best friend..... Never owned a Labrador or three
Senior User

Posts: 2098
Joined: 22 Nov 2011, 14:21
Location: Limousin, France
A lovely picture of Yogi. He was a very handsome boy.

Hilary, Rowley & Douma
Senior User

Posts: 2655
Joined: 05 Jan 2012, 23:18
Location: Leicestershire
I managed to see one photo then photobucket wouldn't play. ....
What a lovely boy Yogi was, regal looking with a smashing coat.
Always in your heart,
Des x
New User

Posts: 7
Joined: 12 Mar 2018, 16:32
He really was amazing. Perfect from the day we got him..He never put a paw wrong. Such a sad loss
Senior User

Posts: 2181
Joined: 07 Aug 2014, 17:20
Location: Northumberland
I have managed to see only one photo of your beautiful big boy, he was very handsome.
Thinking of you.
Liz Shelly Bonnie Molly Polly
Glenys

Posts: 7277
Joined: 31 Dec 2006, 16:54
Location: Lancashire
Contact:
Sorry to hear your sad news Ive uploaded one picture for you if thats ok /
Senior User

Posts: 4996
Joined: 01 Nov 2008, 19:38
So very sorry for your loss. Thinking of you.
Lins, Molly and Scooby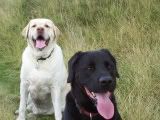 A house isn't a home without at least one Labrador
New User

Posts: 7
Joined: 12 Mar 2018, 16:32
Thankyou so much. We are struggling through day by day. Miss him so much.
Senior User

Posts: 1989
Joined: 22 Nov 2010, 21:19
Sorry to hear you have lost your beloved Yogi and know the pain you are feeling, what a stunning boy
Amanda Jim & Fynley xxx
Remembering our beloved boys Milo, Little Max & Zak who forever will always be in our hearts and never forgotten Feb 2003 to May 2016, Jan 2010 to Jun 2017 & Nov 2004 to Nov 2017.