Moderator: Forum Moderators
Senior User

Posts: 4999
Joined: 01 Nov 2008, 19:38
That's a great Elmer Phudd hat youv'e got on there Billy.
Lins, Molly and Scooby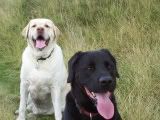 A house isn't a home without at least one Labrador
Senior User

Posts: 1381
Joined: 28 Jul 2009, 12:05
Location: Leeds, West Yorkshire
Very fetching! Handsome as ever, Billy.
Ann, Paul & Zac x
"He took my heart and ran with it, and I hope he's running still, fast and strong, a piece of my heart bound up with his forever." – Patricia McConnell
Senior User

Posts: 4303
Joined: 17 Feb 2007, 14:00
Could do with one of them myself!

Jackie x
Moderator

Posts: 785
Joined: 04 Jan 2007, 00:11
Location: Larkhall, Scotland
Lovely, Billy. Annie and you could double date!!!
Love,
Aileen xx

"You think dogs will not be in heaven? I tell you, they will be there long before any of us."
Webbyswife

Posts: 359
Joined: 03 Jan 2007, 22:01
Location: Blackpool
Its a lovely hat Billy - a boy can never have too many hats!!
Carolyn
Senior User

Posts: 2803
Joined: 31 Aug 2007, 10:09
Location: Cheshire
Billy you are so patient. But you do look great with your hat on.
Kath, Toby (Balee and Megan - Never out of my thoughts
)
Senior User

Posts: 2906
Joined: 02 Aug 2009, 14:46
Location: Tarleton, Lancashire
Billy your hat is ace it really suits you; and don't let anyone tell you otherwise!
Ann x
I wish everything in life was as lovely as my Labrador
Senior User

Posts: 4561
Joined: 08 Nov 2008, 13:30
Bless his little heart!
Stop laughing at him, you lot!!!!!!!!!!!
Marge xx
Senior User

Posts: 1015
Joined: 29 Dec 2007, 11:15
Location: North Wales
Awww! The Russians have landed!
Great hat Billy. That will keep you snug and warm.