Moderator: Forum Moderators
Joanne and Kieran
Who will win the lastest battle for the settee............Jay or his Dad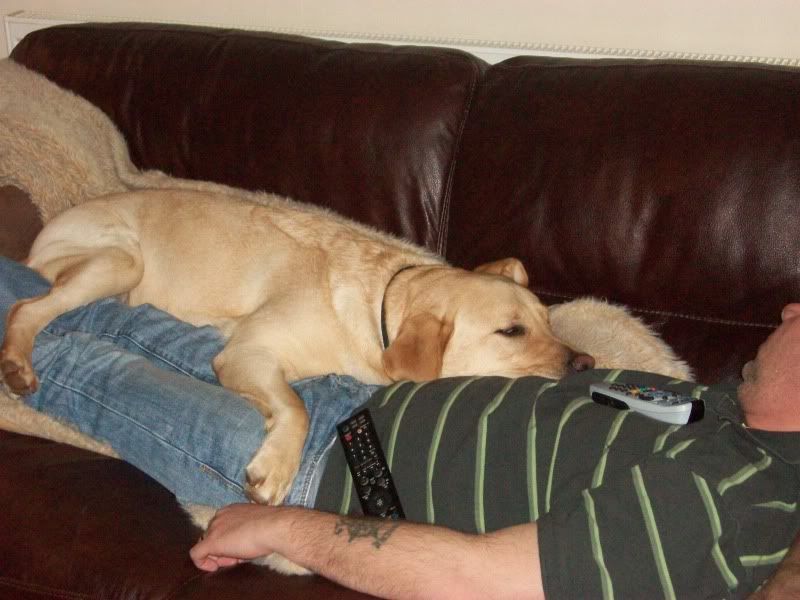 And the winner is......................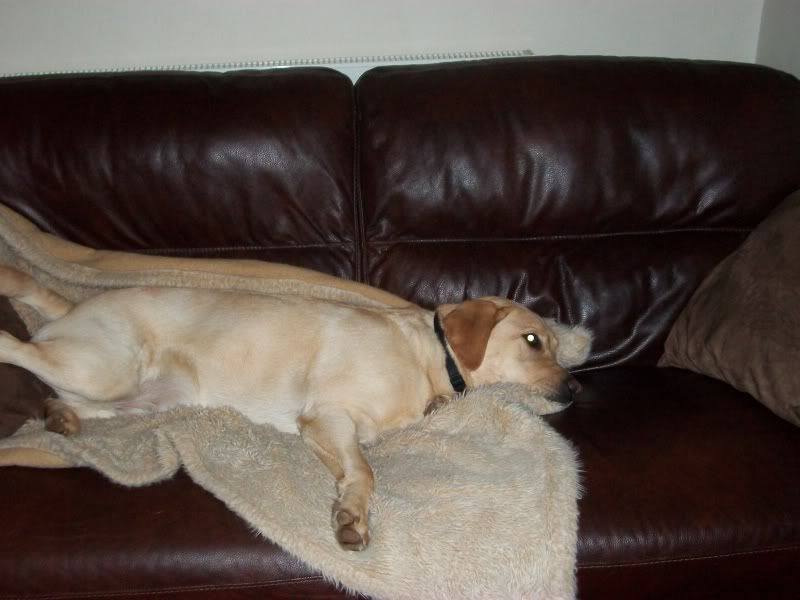 xxxLabLoverxxx
awww...how cute !!!! mabel would do exactly the same with us given half a chance lol

x
Senior User

Posts: 4997
Joined: 01 Nov 2008, 19:38
Great photo. My money would have always been on Jay
Lins, Molly and Scooby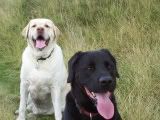 A house isn't a home without at least one Labrador
Senior User

Posts: 4510
Joined: 08 Nov 2008, 13:30
Well done Jay - make sure your Dad knows his place!!
Marge xx
Senior User

Posts: 1381
Joined: 28 Jul 2009, 12:05
Location: Leeds, West Yorkshire
Lovely pics. Well done Jay!

Ann, Paul & Zac x
"He took my heart and ran with it, and I hope he's running still, fast and strong, a piece of my heart bound up with his forever." – Patricia McConnell
Joanne and Kieran
The strange think is that if the cover falls off the settee are becomes tangled Jay jumps off and stares at us until some gets up and puts the cover straight for him to lay back down on
Homing Coordinator

Posts: 703
Joined: 13 May 2008, 19:33
Location: Longton
Aww Jay looked so comfy on his Dad.
Rehoming co ordinator. Tel 07399559202.
Senior User

Posts: 889
Joined: 03 May 2009, 20:30
Hmmmm......our girls always win. Our excuse is that they are our family..no kids. They do get off if told though, honest!
Sara
A dog naps so much because it loves so hard - Anonymous
Joanne and Kieran
We said there was no way he would be allowed on the settee.............but bless he matches the color scheme
He does get off if told but will bump you with his head to be allowed back up again
Senior User

Posts: 2905
Joined: 02 Aug 2009, 14:46
Location: Tarleton, Lancashire
Had to chuckle at the picture, I see Jay's dad still manages to be in charge of the remote controls for the tv even when being almost squashed by Jay! Great picture though...

Ann x
I wish everything in life was as lovely as my Labrador
Senior User

Posts: 2803
Joined: 31 Aug 2007, 10:09
Location: Cheshire
And the winner is......................
a forgone conlusion.
Lovely Picture.
Kath, Toby (Balee and Megan - Never out of my thoughts
)
Senior User

Posts: 415
Joined: 15 Nov 2007, 15:40
Location: West Coast Scotland
fabulous !!!
Arlyn x