Moderator: Forum Moderators
Senior User

Posts: 889
Joined: 03 May 2009, 20:30
Senior User

Posts: 4999
Joined: 01 Nov 2008, 19:38
That's the same sort of toy that Molly had - lasted all of two minutes
I bet Bonnie had her own toy though, otherwise they would have been playing tug o war.
Great pic as usual.
Lins, Molly and Scooby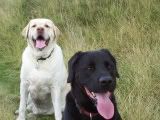 A house isn't a home without at least one Labrador
andyb
Ahhhh, great pic
Andy& Fi
andylpool
aww cute
Senior User

Posts: 1617
Joined: 07 Jan 2010, 15:42
Location: North East Wales
Great picture.
Kay.x
Senior User

Posts: 2906
Joined: 02 Aug 2009, 14:46
Location: Tarleton, Lancashire
That's what all my tug toys look like - shredded! I wish I knew if there was anywhere I could buy indestructable dog toys from, Millie loves squeekers but just wrecks them. I spent £8 on 2 last weekend and by Monday neither of them squeeked! Infuriating...........

Ann x
I wish everything in life was as lovely as my Labrador
Senior User

Posts: 354
Joined: 20 Jan 2010, 15:18
Location: North Wales
How clever, she is trying to unfasten the knot!!
Ky, Mij and Grayse
I am joy in a woolly coat, come to dance in your life, to make you laugh.