Moderator: Forum Moderators
Senior User

Posts: 2108
Joined: 07 Aug 2014, 17:20
Location: Northumberland
POLLY is 10 TODAY
Beautiful Girl
Much love always Dad Mum Shelly Bonnie Molly
---
Senior User

Posts: 2572
Joined: 06 Jun 2008, 14:25
10 years young beautiful Polly
I know you will have a wonderful day with lots of extra cuddles and treats and i hope you and your sisters have a lovely day.
Big hugs to a very special girl who I love to read about on this Forum.
Joan and George x
---
Senior User

Posts: 1923
Joined: 22 Nov 2010, 21:19
A Happy 10th Birthday Polly
Hope you have a wonderful day with your sisters.
These are for you and your sisters
Amanda Jim & Fynley xxx
Remembering our beloved boys Milo, Little Max & Zak who forever will always be in our hearts and never forgotten Feb 2003 to May 2016, Jan 2010 to Jun 2017 & Nov 2004 to Nov 2017.
---
Glenys

Posts: 7068
Joined: 31 Dec 2006, 16:54
Location: Lancashire
Contact:
Clever girl Polly happy birthday Im sure you will have some lovely treats xxx
---
Senior User

Posts: 2579
Joined: 05 Jan 2012, 23:18
Location: Leicestershire
A very happy 10th birthday lovely girl!
Sure you and your sisters are enjoying some treats, its great when there's several of you, celebration days come round more often
Des x
Desley
Diesel & Harley x x
---
Senior User

Posts: 2250
Joined: 17 Jan 2014, 21:09
Location: Cheshire
Happy 10th Birthday beautiful Polly
I know you will have had a fab day
Debbie, Coco & Kinder X
Who ever said diamonds are a girls best friend..... Never owned a Labrador or two
---
Senior User

Posts: 4970
Joined: 01 Nov 2008, 19:38
Happy belated birthday Polly. I'm sure it was a good one and you got spoil rotten. x
Lins, Molly and Scooby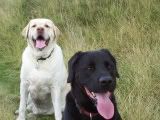 A house isn't a home without at least one Labrador
---