Moderator: Forum Moderators
Senior User

Posts: 423
Joined: 16 Sep 2009, 20:23
Location: Cheshire
Dad needs help to eat all his toast so it's only fair I help him out
Carol and Tasmin
---
Senior User

Posts: 683
Joined: 15 Aug 2013, 15:14
You look lovely Tasmin
was it worth waiting for?!
I hope you enjoyed it.
---
Senior User

Posts: 795
Joined: 03 Sep 2011, 14:08
Fab photo of a quick learner!

Well done Tasmin! Lily also begs for toast from my Dad (she knows better than to ask me), but sadly she can't have it due to a wheat allergy!

Jane and Lily
---
Senior User

Posts: 1079
Joined: 10 Feb 2013, 13:11
Location: Lancashire
I don't think I've ever seen a more serene and beautiful dog waiting for food. Carol, it doesn't look right without a trail of drool spilling from the mouth
Kim, Murphy & Amy x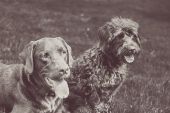 ---
Senior User

Posts: 1222
Joined: 24 Oct 2008, 22:35
Location: Warwickshire
I know what you mean about the drool, Kim!
Tasmin always looks so elegant and regal. Another beautiful picture - and the one on the sofa is gorgeous too!
from us xx
---
Senior User

Posts: 423
Joined: 16 Sep 2009, 20:23
Location: Cheshire
Serene and regal sums her up beautifully. She's the most placid laid back dog I've ever known. Her manners are impeccable and she is so very gentle taking food from you a baby could feed her. She's Started talking to us recently, it's a hoot hearing her.
Carol and Tasmin
---
Senior User

Posts: 1921
Joined: 22 Nov 2010, 21:19
You have such a beautiful and gentle face, hope you enjoyed your toast
Amanda Jim Milo Zak & Max x
Amanda Jim & Fynley xxx
Remembering our beloved boys Milo, Little Max & Zak who forever will always be in our hearts and never forgotten Feb 2003 to May 2016, Jan 2010 to Jun 2017 & Nov 2004 to Nov 2017.
---
Senior User

Posts: 4244
Joined: 17 Feb 2007, 14:00
Looks like a scene from my house! My two love toast too, she is a beauty.

Jackie x
---