Moderator: Forum Moderators
New User

Posts: 23
Joined: 26 Mar 2013, 21:51
---
Senior User

Posts: 1221
Joined: 24 Oct 2008, 22:35
Location: Warwickshire
You got there in the end - well done!
What a lovely picture of your beautiful dogs!
---
Senior User

Posts: 2803
Joined: 31 Aug 2007, 10:09
Location: Cheshire
So pleased you made it!
The picture is lovely and Molly a Bluey are Beautiful.
Kath, Toby (Balee and Megan - Never out of my thoughts
)
---
Senior User

Posts: 3025
Joined: 07 Aug 2011, 21:32
Location: Summerseat, Lancs
How gorgeous are Bluey and Molly..
Worth wrestling with photobucket for such a terrific result
Joanna & Toby xx
Willow, my labrador soulmate, my one in a million..
Jan 2003 - May 2011

---
Senior User

Posts: 4987
Joined: 01 Nov 2008, 19:38
Absolutely gorgeous, both of them
Thanks for sharing. There will be no stopping you now.
Lins, Molly and Scooby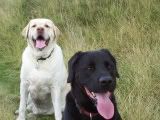 A house isn't a home without at least one Labrador
---
Senior User

Posts: 2607
Joined: 06 Jun 2008, 14:25
Bluey and Molly are absolutely gorgeous
and wonderfully set off by your equally gorgeous and colourful background
Look forward to hearing more about your two beauties.
Joan
Joan and George x
---
Senior User

Posts: 4437
Joined: 08 Nov 2008, 13:30
Awwww!!!
Aren't they just gorgeous?!
The flowers are lovely as well!
---